With all the shit that goes on at the office, you might be surprised at why I'm continuing to work here. One reason is because there's still a good number of people here who care deeply about each other and the code that they produce (the good code is boring, so I don't talk about it - media bias). One reason is because I'm moving more into the data science team as a research engineer and their code is isolated from the armageddon that is web services, and they're super smart for reals. One other reason is because of the awesome desk setup that I have.
It's not fair to say awesome without including a picture, so here you go: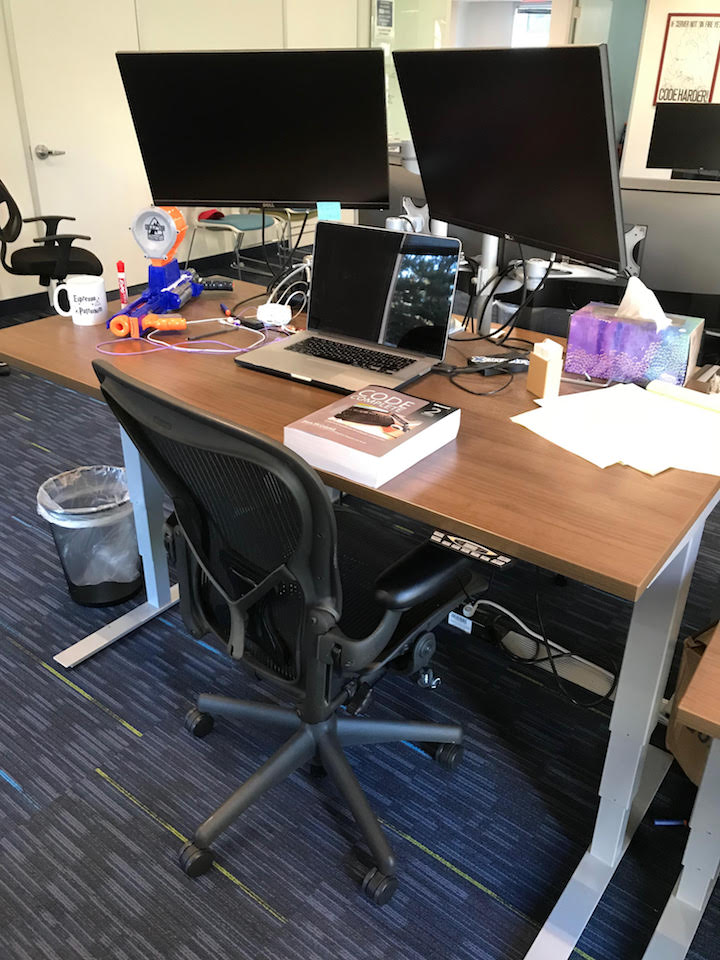 In this picture, I have (from left to right):
A garbage can and recycling bin
An "Espresso Patronum" mug that I use to make tea (a play on "Expecto Patronum" from Harry Potter, which is a spell used to ward away Dementors)
Some markers in order to draw on the whiteboard if I'm working through a design or architectural problem with colleagues
A Nerf N-Strike Elite Rampage Blaster, with 25-dart drum magazine
A dual monitor stand sporting twin Dell E2417H 24'' bezelless monitors
A new MacBook Pro Retina 2015 edition with case
A Herman Miller Aeron with PostureFit adjustable lumbar support, fully adjustable armrests, and adjustable tilt-limiter
A copy of Steve McConnell's "Code Complete 2", which I'm about 75% of the way done
An encrypted hard drive with local Time Machine backups
A set of organic business cards (really)
A box of Kleenex that I and other people use sometimes
Some papers for architectural sketches (and that I'm not blurring out because I can't see what's written on there and I'm guessing you can't either and even if you could adjust it in Photoshop they're not very comprehensive)
A Swedstyle Quadro Flex electric sit-stand desk with wood finish
I couldn't ask for more, beyond asking for a private office (and we're venture-backed so that's never happening for developers). This is my first job out of college. When I look at the horrifying code our satellite office shits out, I look at my desk and remind myself that I'm still quite lucky.
Not everything here is bought by my company. I bought the Nerf gun, the copy of "Code Complete 2", and just this past weekend, the Herman Miller Aeron chair. I kinda just wanted to talk about the Aeron in this post. That's why I made it.
It's my first big purchase. Ever. I don't think I have bought something so expensive by myself before. And it's a chair that I don't even use at home. Why a Herman Miller Aeron? And how did I come in possession of such a chair?
I first learned of the existence of such chairs by reading Joel Spolsky's blog. He raves about the Herman Miller Aeron. Just look at this post. Heads of state use it while negotiating multi-billion dollar deals. It's because it's the best damn chair in the whole wide world. When you sit in it, you think to yourself, "now my farts will go through the mesh fabric to the floor where they belong instead of wafting up and annoying people". When you sit in it, you feel like a king.
I recently scrounged up some money in order to buy one of these chairs, and decided to search on craigslist for one that was lightly used and had most of the trimmings. This past weekend, I found a great deal: $400 for a chair with no visible defects, save a scratch mark from the movers. I had to get it. A new one like that would cost probably $1000. So I went to the ATM, withdrew $400 in cash, went down to the D.C. waterfront, grilled the guy on the chair, paid him, and drove it back to the office in a Lyft SUV. Then I wheeled it into the office and wiped it down with a never-before-used handcloth. Hopefully, I'll use it at every company I work at for the next twenty years that doesn't give me a Herman Miller Aeron.
I didn't ask for a Herman Miller Aeron here, but that's because I felt bad doing so. The chairs we had were not that bad. They have some lumbar support but it's not adjustable, but it's comfy and new. Before these came in, we had these solid black office chairs, like Staples clearance or something; those were pieces of shit. Literally, I was uncomfortable the moment I sat down and couldn't sit in them for more than ten minutes. I felt like a piece of shit for working at a company that gave me these chairs. It drained my morale. Now my morale will not be drained because my chair is uncomfortable.
For me, seeing a company making expensive investments into their employees indicates that 1) they want their employees to stick around for some time and 2) they want to build to last. It could just be because they're stupid and waste money, but honestly penny wise and pound foolish seems more foolish to me. The atmosphere of a company is very different between having $3M in funding and $30M in funding, and whether that company is growing. One sign of a good company is a good work setup.