"Calm on iOS": 256 sessions in
You remember those weekly updates that I promised to start delivering? Yeah, nope, didn't happen at all. I forgot about within the same week I published that post.
On the other end of the spectrum, I have recently completed my 256th daily meditation practice using Calm. That's over the course of about a year. Here's a screenshot of some metrics the app shows you after every meditation: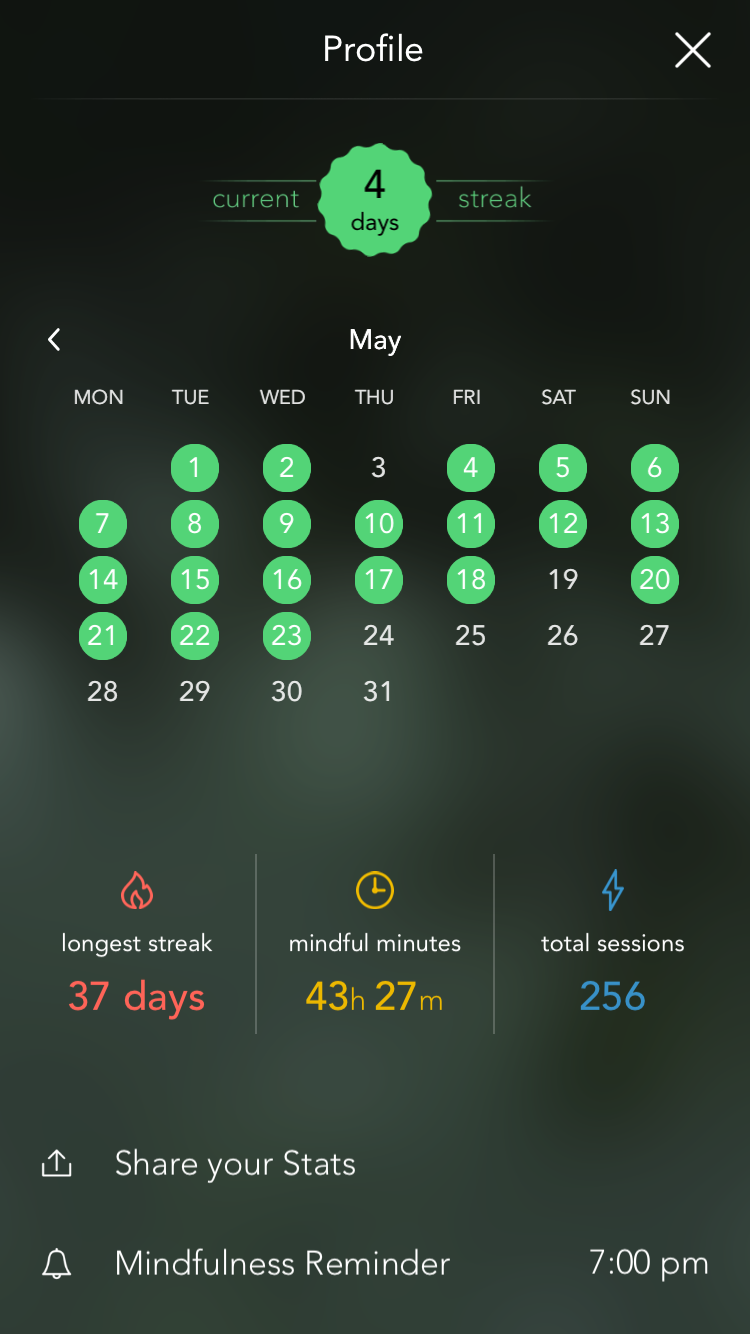 If you told me a year ago that I would have completed my 250th daily meditation in one year, I would have not believed you. Then I would ask you how you got in my apartment. All jokes aside, I myself find this ridiculously incredible. From reading about Calm in Adrian Rosebrock's blog post about his daily routine to downloading the app and using it during the free trial, to forking out actual dough on an iOS app as the frugal Luddite I am, to using it most every day, has been quite the journey, with tangible benefits. I've grown much more mindful and at peace with who I am – not an easy task for me – which has then helped me in my professional career. It's helped me become more self-aware and fills me in on the things I need to personally improve upon in my life. Most importantly, it's a habit that acts as a base for all my other habits: all I need to do is to do, and feel, the same things for all the other routines I want to build up.
So what about Calm is so useful, and how can I translate that to my other habits?
It's easy. It's ten minutes of meditation every day, and it's in your face the moment you open the app.

It's trackable. A calendar pops up after every meditation, and in a separate window, that shows which days you meditated (ten minutes will do) and which days you didn't. As the saying goes, you optimize for what you track.

It's consistent. There aren't any major redesigns or overhauls that slow the app down or confuse you. Nothing has noticeably changed. And for people building up habits, it's one less thing to worry about.
Once upon a time last year, I was so lazy I had to eat red pepper flakes in order to get up and drink some water (I stopped that). Yet I do this thing. I'm a sucker for metrics.
I highly, highly, highly recommend Calm. In fact, using any apps like these in order to manage your life – especially when you're as disorganized as me – can do wonders for your productivity, your self-esteem, and your outlook on life. I'm also using Todoist for to-do lists, and Pocket for organizing my bookmarks. But definitely get Calm.